Wind Mitigation Inspections
A Wayp
oint Windstorm Mitigation Inspection is a valuable inspection service that may reduce your homeowners windstorm insurance premium. Insurance discounts are available for building features that reduce damage during high wind events. The discounts are justified because stronger, more wind-resistive structures have lower windstorm losses, which mean reduced costs to insurance companies. Most existing structures have one or more wind resistive construction features and may qualify for some insurance discounts.

The state of Florida REQUIRES Insurance Companies to offer REDUCED RATES for certain Hurricane resistant features. Waypoint will document the features present in your home and produce a report for you to use in your request for reduced rates. Windstorm Mitigation Inspections must be performed by Certified Wind Mitigation Inspectors (CGC #1513833.) Windstorm construction features protect your home from catastr
ophic hurricane damage by strengthening your homes ability to withstand the uplift, shear and lateral forces of the wind associated with a hurricane to the exterior shell of your home. The features enhance the vulnerable components of your home's protective shell or envelope by fortifying your roof, exterior walls, windows and doors so they will not breach or fail in high winds. If this protective shell or envelope is breached, not only can wind-driven rain and debris enter your home causing considerable damage to its interior, but the high winds can enter your home and exert pressure on your walls and roof leading to catastrophic damage to your property.
A homeowner with windstorm insurance can often submit the results of a windstorm inspection to their insurer to obtain discounts on their windstorm insurance. In
Florida
, for example, premium discounts for certain favorable wind mitigation features are mandated by State law and can total

45%

of the original policy's premium.
What features qualify for a Windstorm Mitigation Insurance Discount : existing houses have one or more of these wind resistive construction features and may qualify for some insurance discounts. In addition, houses built after 1994 in Miami-Dade or
Broward
Counties
and houses built after 2002 in the rest of the state generally have many wind resistive construction features and will likely qualify for significant credits.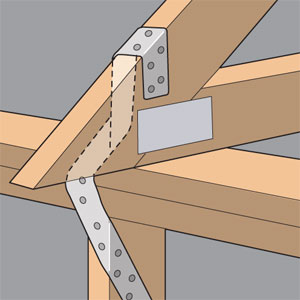 1.
Roof coverings, such as shingles that meet the
FBC
Requirements.
2. Roof decks that have been installed with large nails and close spacing.
3. Hurricane clips/straps that hold the roof structure to the walls.
4. Protection of Openings such as windows and glass doors with impact resistant glazing or other protection systems.

5. Secondary Water Resistance that prevents the roof from leaking if the roof covering is blown off in a windstorm.

6.
Newly Constructed Homes built to the
Florida
Building
Code since
March 1, 2002
7.
Homes built to the
South
Florida
Building
Code in Miami-Dade and
Broward
Counties
after 1994.
** Please note that insurance companies may have more features that qualify for mitigation credits such as rated doors and gable end bracing.
Serving: Boca Raton, Boynton Beach, Lake Worth, Palm Beach Gardens, West Palm Beach, Jupiter Island,
Palm Beach, Parkland, Coral Springs, Ft. Lauderdale, Hollywood, Miramar, Coconut Creek, Jupiter, Miami,
Aventura, Sunny Isles Beach, Port Saint Lucie, Pompano Beach, Delray Beach, Lantana, Greenacres, Loxahatchee, Weston, Miami Lakes, Palm City, Stuart, Tequesta and Wellington

Home Inspection Software and Website Hosting

Privacy Statement: We are committed to communicating with you in a professional manner and protecting your confidential information. We use the information you provide (e.g. name, address, phone number, email, etc.) to contact you to share information about our (products/services). We will not share your information with any third party outside of our organization, other than as necessary to fulfill your request. This company does not sell, trade or rent your personal information to others.
Please contact us to correct or update information at any time. (provide form or phone number)
---
Waypoint Property Inspections East, llc
Proud Member of


______________________________
7114 Vesuvio Place
Boynton Beach, FL 33437
561-676-0546
www.waypointeast.com